Our verdict
The Garmin Fenix 5 is a great watch for athletes and outdoor enthusiasts. It offers a wide range of features for multisport, swimming, cycling, running, and triathlon. But also other activities such as weightlifting, golf, and climbing. The Fenix 5 Safir is specially designed for athletes and has all the features they need
I've tested the Fenix 5 model for two years. I've tested the watch during both training, long biking trips, marathons, and even an Ironman. After two years the only major flaw I've found is the GPS doesn't work very well in urban areas, especially not in the city.
Best deals today
The different Fenix models
The Garmin Fenix 5 Watch comes in three variants: 5s, 5, and 5x. In addition to the three model variants, there are also variants with or without Sapphire glass (and WiFi), metal bracelet, and bundle packages.
I've found these models
All of the models now run on Bluetooth. This speeds up the processing of data from the watch to your phone a lot. It's worth noting that ANT+ is still available.
The Fenix 5s is the smallest in size of the three variants. The watch has a diameter of 42 mm, which is about the same as the forerunner 235, 630, or the 735. The 5s model is great for people with narrow wrists. The 5s has a battery time of 14 hours with the GPS on.
The Fenix 5 has a diameter of 47 mm. This model has the longest battery time. The Fenix 5 can hold up to 24 hours battery while tracking GPS and up to 60 hours in UltraTrac-mode.
The Fenix 5x model is the same size as the Fenix 5. It has a TODO-map incorporated so the watch can be used as a traditional way-finding GPS. The Fenix 5x also has a display of 240×240 which makes the display very neet to look at.
Even though this is the most expensive watch of the three the battery time is still "worse" than the Fenix 5. It can hold 20 hours of GPS and 35 hours of UltraTrac.
What's the main difference between Fenix 5s, Fenix 5, and Fenix 5x?
| | |
| --- | --- |
| Fenix 5 s | Smallest diameter |
| Fenix 5 | Longest battery time |
| Fenix 5x | TODO-map, Temperature measurements |
| Fenix 5s, 5, 5x with saphaire | Wifi enables + sapphire glass |
Differences between the Fenix 5 watches
What is UltraTrack mode?
UltraTrack mode is Garmin's way of providing longer battery life for their GPS watches. They achieve this by tracking less detailed tracking data.
The UltraTrack mode is made for ultra distances or extra long hikes. If you want to turn it on you can just head to settings, choose the activity, select GPS and select UltraTrack.
Battery-life of the different models:
| | |
| --- | --- |
| Fenix 5s | 35 hours of UltraTrack battery life |
| Fenix 5 | 60 hours of UltraTrack battery life |
| Fenix 5x | 35 hours of UltraTrack battery life |
The different battery life of Fenix 5s, Fenix 5 and Fenix 5x
Replaceable straps on the Fenix 5 series
Garmin are known for their replaceable straps. And the Fenix 5 series is no diffrent. In the Fenix 3 series, you needed tools to change the strap. They completely fixed this with their QuickFit mechanism. With a single press release the strap can come off, and you can add another. It especially opens up to have more straps so that straps can be matched for clothing and occasion.
Charging a Garmin Fenix 5 watch
The Garmin Fenix 5 series has a unique charging cable, as shown in the picture. It's easily attached with small magnets.
Analyzing your workouts with Fenix 5
The Garmin Fenix 5 series is one of the most advanced watches when it comes to tracking and analyzing your workout data.
The widgets in the watch constantly tell how effective the exercise has been over time, what parameters are being improved and how much stress the body is exposed to across all activities.
The watch measures advanced measurements such as VO2-max and FTP during running AND cycling. After training, you get recovery recommendations for how long to optimally recover after training with the current load taken into account.
If you use Fenix 5 with a heart rate monitor, such as the Garmin HRM-tri (not included) it can measure Running Dynamics data, which is Garmin's advanced running style analysis. The heart rate belt (not included) can also calculate stress scores, which calculate the body's stress level based on fluctuations in heart rate.
As the Garmin Vector 2 wattmeter (not included) is used with the watch, it also supports cycling dynamics. Cycling dynamics provides advanced data on the position of the pedal, power distribution, right/left balance, and when you are most efficient- whether you are standing or seated.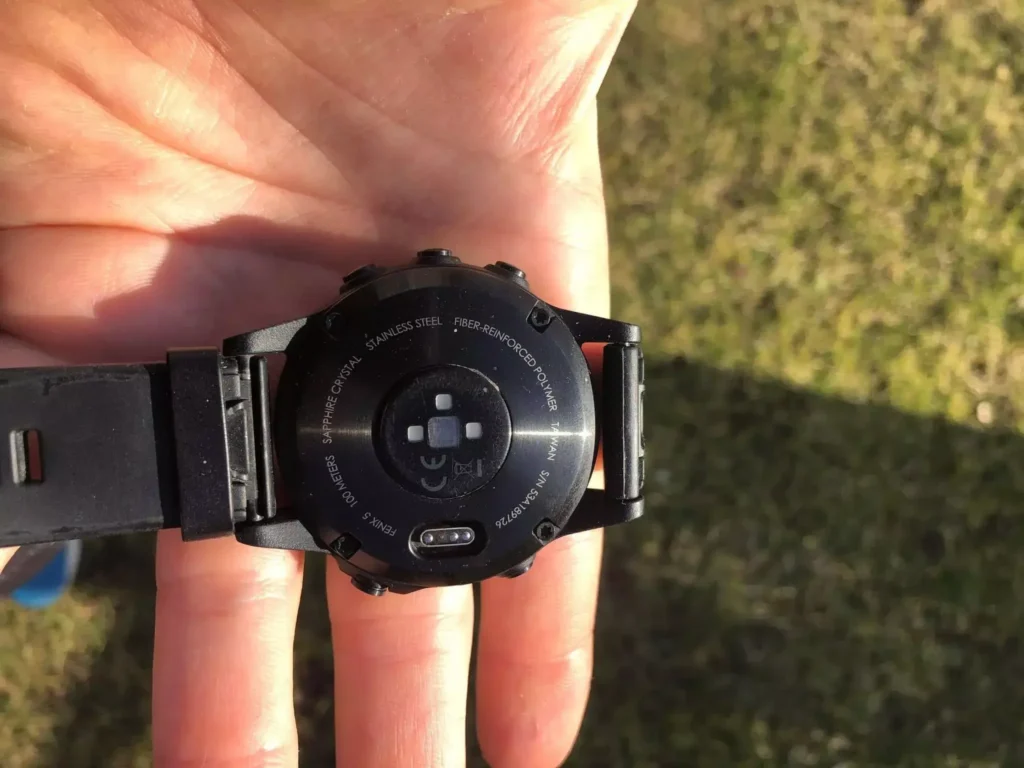 Fenix 5 and physiological Measurements
The Fenix 5 series is filled with physiological measurements you can use to improve your training. Here's an overview:
VO2 Max measurements: Being able to track your fitness level and see changes over time is extremely helpful. You can set more appropriate goals, better evaluate progress and see if your training is effective.
Race Time Prediction: How long a race will take to finish affects some important decisions. For example, your pace and what you can be influenced by how long the race will last.
Performance Condition: During the first minutes of your training session a real-time time measurement is made of your performance. The watch analyses your pace, heart rate, and heart rate variability. It then gives your performance is above, or below your expected performance.
Training Effect: The training effect measurements analyze your VO2 Max and heart rate to give you an indication of which heart rate zones you training in – Aerobic or Anaerobic.
Recovery Time: As the name indicates the watch calculates the estimated recovery time you take until you're sufficiently recovered.
Running power: This is a way to measure how hard the training session is. In other words, it measures the actual exercise load. In order to use this feature you'll have to download the running power app and use either a heart rate belt such as HRM-tri,
GCT (Ground contact time): Calculates the amount of time, measured in milliseconds, your food spends on the ground while running.
Ground Contact Time Balance: Measures the amount of time your right and left food spend on the ground. This gives an indication of symmetry as you run.
Cadence & Stride Very simply the watch can show you how many steps you take per minute. It can also measure how far you travel with each step.
Vertical Oscillation: Gives you a measurement of the distance your body is bouncing up, and down when running. A lower oscillation is typically seen as more economical as less energy is wasted.
Vertical ratio: Measures your efficiency based on the vertical bounce of our stride together with the stride length. You want to keep this ratio low as it indicates energy efficiency.
Personalized apps for the Garmin Fenix 5
If you're feeling like you're missing a certain feature on your watch- whether it be a smart dial or more in-depth training instructions- don't worry. Most likely, that functionality is already available on Garmin IQ. Garmin IQ is part of the Garmin Express app, which you can download to your smartphone.
The IQ store for Fenix 5 offers various features and apps, including analog dials, weather forecasts, activity profiles for diving and depth gauges, and advanced watt analyses while cycling.
Final Thoughts
The Garmin Fenix 5 series is definitely a buy for any outdoor enthusiast or athlete that likes diving deep into their data. However, if you're primarily an urban runner, you shouldn't go for this watch. In our tests, the watch doesn't perform very well in urban areas.